Grow Stronger And Overcome Past Challenges
Choose Help, Not Suffering
Is Your Low Mood Causing You To Miss Out?
Have you recently experienced a life event that has caused emotional turmoil or hardship, triggering a sense of despair about the future? 

Does a lack of motivation or a loss of interest in the things that used to inspire you make life seem dull and colorless?

Are you spending more time engaging in unhealthy habits to numb your sadness?

Living with depression can feel like your inner spark has been snuffed out. Other than attending to the bare essentials—eating, sleeping, going to work or school, and, perhaps, taking care of the kids—you have no energy or desire left for much else. Rather than feeling engaged and energetic, you may feel sad, listless, irritable, and hopeless.
Depression Can Affect You At Any Age
Depending on the stage of life you're in, you may be dealing with different factors that are leading to your distressing emotions. In younger adulthood, feeling overwhelmed by life's obligations or failing to reach the goals you've set for yourself may be fueling your low mood. In addition to sadness, you may be short-tempered and prone to anger.
For adults, a challenging life event could trigger a depressive episode, such as the losing a family member, divorce, or illness. You may experience overwhelming waves of sadness you feel unable to control, so you avoid spending time with others. Additionally, the postpartum phase can be emotionally exhausting as you try to adjust to the new normal of taking care of an infant.


If you are feeling despondent and stuck, depression counseling offers a positive path forward. No matter what phase of life is challenging you—adolescence, adulthood, or postpartum—seeking therapy for depression can help you reignite your spark so you feel like yourself again.
Source: American Psychiatric Association
Depression Is The Most Common Mood Disorder
According to the National Institute of Mental Health (NIMH), in 2021, "An estimated 21.0 million adults in the United States had at least one major depressive episode. This number represents 8.3 percent of all U.S. adults." [1] What's more, "The prevalence of major depressive episode was higher among adult females (10.3 percent) compared to males (6.2 percent)." [2] 
As the statistics confirm, a depressive episode can impact us at any time throughout our lives. However, depression is particularly prevalent in the senior population, where it's estimated that "more than two million of the 34 million Americans age 65 and older suffer from some form of depression." [3] Depression can be caused by a combination of factors, including genetics, major life events, underlying stress, and hormonal imbalances.
Depression Is Like An Overflowing Junk Drawer
We can liken depression to a culmination of negative emotional energy we internalize and bury inside. Over time, we may accumulate unexpressed self-loathing, regret, and fear in our "junk drawer." These emotions lay dormant until something—like a challenging life event— yanks the drawer open, causing them to spill out in the form of sadness, anger, and hopelessness. And although one event may trigger the depressive episode, the root causes underlying it have existed for some time.
As debilitating as depression is, many of us were conditioned to believe that admitting we had mental health struggles was a sign of weakness. Sadly, this mindset of pushing down our feelings often contributes to the overflowing junk drawer, potentially making our depression more severe when it hits. Rather than share our burden with loved ones, we may self-isolate or preoccupy ourselves with numbing behaviors, like overeating, binge-watching television, overspending, drinking in excess, or, perhaps, daily use of marijuana edibles.
But depression is nothing to be ashamed of. By seeking therapy for depression, you can process your emotions in a safe environment and address its root causes.
Therapy Can Help Alleviate The Symptoms Of Depression
Admitting you could benefit from help is a huge step in overcoming depression. At Ammirati Counseling, we provide a safe space where you will feel heard, understood, and cared for. This is one place where you don't have to hide how you feel or push challenging emotions away. Validating your experience and providing empathy can go a long way in setting you on a path to healing.
Rather than offering temporary fixes that won't serve you long-term, we aim to meet you where you are. Ensuring we set a pace you're comfortable with will be our utmost priority. We will only tackle the root causes of your depression once you feel ready and supported. 
Source: American Psychiatric Association
What To Expect In Sessions
Initially, we will assess your daily functioning to determine how much depression is currently affecting you and what you need to do to regain a sense of control. If, for example, you're not eating, sleeping, or keeping up with basic hygiene, we'll start with the basics, setting bite-sized goals to reestablish a stable routine. It's important we set micro goals at first so you never feel overwhelmed or doomed to fail. Once your foundation is strengthened, we can move on to exploring the root causes of your depression, introducing coping skills to avoid triggers, and identifying other lifestyle changes you can make to curtail future depressive episodes.
If we both agree it would be helpful, we may decide to invite family members into some sessions. Empowering loved ones to build a more robust support system for you will be beneficial down the road. Longer-term goals may include mapping out the future you want and identifying tangible goals for improving your quality of life. Acknowledging what you can and cannot control will empower you to make decisions that positively impact your trajectory.
Our Client-Centered Approach
To Depression Counseling
Our counselors utilize a variety of modalities for treating depression that may incorporate elements of Cognitive Behavioral Therapy (CBT), Acceptance and Commitment Therapy (ACT), Internal Family Systems (IFS), as well as a Rogerian/Empathetic Listening approach. Our counseling philosophy is based on the principle that you are the expert of your life with autonomy to guide what we focus on each week.
Using CBT will bring awareness to the negative self-talk that fuels depression so you can challenge thoughts and beliefs that fuel sadness and despair. Additionally, your therapist will help you identify your strengths as well as the values that are most important to you. In this way, you can begin to accept all aspects of yourself and cultivate self-compassion.
We are not defined by our circumstances but rather by how we respond to them and our choices going forward. Depression therapy empowers you to move forward with a renewed sense of purpose, allowing you to chart a new direction in your life.
But Maybe You're Not Sure If Depression Therapy Is Right For You…
How will counseling help me if I feel like I'm the only one who has depression?
Even though you might feel like the only person with depression, we can assure you that you're not alone. Some have even likened depression to the common cold, and for good reason. [3] Not only do most of us suffer from it at one time or another, but its symptoms can sideline our daily routine, sometimes for days or weeks. Although we all get sad, when depression doesn't lift and begins to interfere with your life, that is when you could benefit from therapy.
I'm embarrassed to see a therapist for depression.
Historically, the importance of mental health hasn't always been properly acknowledged in our country. Fortunately, that's finally changing. With more people shedding the stigma about mental wellness and opening up about their personal journeys, seeking treatment for depression and other mental health disorders has come to represent a courageous act rather than something to be ashamed of. Don't allow antiquated notions about mental health to prevent you from seeking help and feeling better.
Does depression therapy really work?
Many of us refrain from offloading our pain onto our loved ones, fearing that doing so will make us a burden and subject us to rejection. In depression therapy, you build a relationship with your counselor based on trust, compassion, and understanding. In counseling, you're allowed to be open, honest, and vulnerable about how depression makes you feel without fear of judgment. Further, our client-centered approach offers evidence-based modalities to ensure long-term healing and transformation.
When The Clouds Part, The Sun Can Shine In
It's time to reclaim your happiness and well-being. If you would like to find out more about depression therapy with Ammirati Counseling, you may visit our contact page or call 847-217-9381 to schedule a free 15-minute call to get more information.

[1] https://www.nimh.nih.gov/health/statistics/major-depression
[2] https://psychcentral.com/depression/depression-facts#20-facts
[3] https://www.mhanational.org/depression-older-adults-more-facts
[4] https://www.nami.org/Personal-Stories/How-Depression-is-Like-the-Common-Cold
Learn More About Depression
"Debunking 4 Myths on Love"
Join the Hundreds of Thousands Worldwide Who Discovered the Secrets of the 'Love Lab'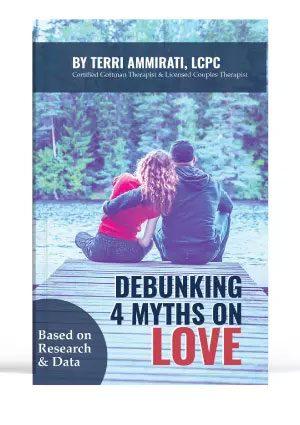 In the 1980s, Dr. John Gottman established the "Love Lab," where researchers discovered groundbreaking behaviors on the "Masters" and "Disasters" of relationships.
Terri Ammirati was fortunate to be trained directly by Dr. Gottman and his wife, Dr. Julie Gottman.
Subscribe now to receive Terri's free e-book with "Love Lab" findings.
Empower your relationships today
Your e-book is on its way! If it doesn't show up in your inbox, remember to check your spam folder.