Healthy Family Connections
Why Is Family Therapy Important?
When your family isn't able to connect and communication breaks down, conflict mounts and you feel like you have lost a part of yourself. But that doesn't mean that part of you has to stay lost.
Learn how to bridge the gap, foster effective ways to communicate and rebuild trust.
At Ammirati Counseling, our family therapists in Chicago are highly trained in various specialties. We are committed to providing personalized and continuing care for all members of your family.
Benefits of Counseling with a Family Therapist
Benefits of family counseling include:
Better communication
Improved group dynamics
Increased self-esteem
Stronger bonds
A source of support during life transitions
Resolution of family conflicts
A safe space for family members to share feelings
Healthier ways to cope with loss
Finding ways to deal with anxiety, depression and isolation
Family therapy is a type of counseling that focuses on the relationship between the members of a family and their interactions with each other. Family therapy can help families members find new ways to communicate, resolve conflict and reduce stress.
The family is the first agent of socialization. This means that parents, siblings and extended family members help each other learn to function successfully in the world. A family therapist can help your family address specific issues that are may be affecting healthy socialization and the overall well-being of your family.
Who Needs Family Counseling?
We All Need help No Matter What Stage In Life We Are In
Families with Young Children
Families Coping with Loss
How Can Family Therapy Help?
A professional Chicago family therapist can help people facing a variety of issues:
Behavioral problems in children or teens
Changes within the family
Communication problems
Death of a loved one
Divorce, separation or marital problems
Parent-child conflicts
Problems between siblings
Parenting issues
Stressful events or major life transitions
Trauma
Chronic illness or a mental health condition
If your family is also suffering, we can help.
"I was able to be honest with her and myself...feeling incredibly grateful."
"Terri's perspective and feedback have been beyond helpful in managing my triggers and stressors. Her 'big picture' approach provides me with a greater understanding of why certain things are issues. She is able to look beyond the present issue and relate it back to other people or situations in my past."
"Her empathetic directness is invaluable as I can walk away from each session with something to consider and work on. I do not feel like I am being my own therapist and talking to empty space."
Learn More About Family Counseling
"Debunking 4 Myths on Love"
Join the Hundreds of Thousands Worldwide Who Discovered the Secrets of the 'Love Lab'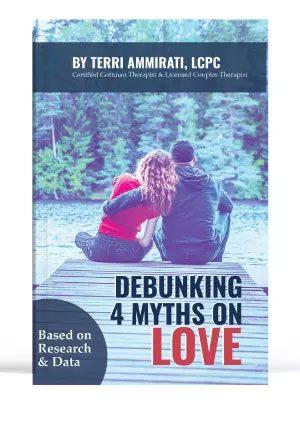 In the 1980s, Dr. John Gottman established the "Love Lab," where researchers discovered groundbreaking behaviors on the "Masters" and "Disasters" of relationships.
Terri Ammirati was fortunate to be trained directly by Dr. Gottman and his wife, Dr. Julie Gottman.
Subscribe now to receive Terri's free e-book with "Love Lab" findings.
Empower your relationships today
Your e-book is on its way! If it doesn't show up in your inbox, remember to check your spam folder.