Confidential & Effective Counseling From Experienced Therapists
Why Is Individual Therapy Important?
Private therapy can help you achieve a happier, more meaningful and fulfilled life. Learn the most effective tools for rebuilding and strengthening your well-being.
At Ammirati Counseling, our therapists have extensive experience working with people experiencing distress, anxiety, depression and trauma. Our approach to individual counseling sessions is direct, compassionate, empathic and collaborative.
Start your journey today towards a healthier relationship with yourself.
More Meaning, More Fulfilled
Benefits of Counseling with an Individual Therapist
A trained individual therapist can help you.
Cope with major life changes
Cope with grief and loss
Deal with depression and anxiety
Develop better communication skills
Improve your relationships
Managing stress and anger
Overcome addictions
Overcoming low self-esteem
Rebuilding trust after an infidelity
A Safe Place To Learn Life-Long Coping Skills
What Is Individual Therapy?
Individual therapy can be an empowering and life-changing experience. It is a form of counseling in which clients have a one-on-one conversation with a professional in a safe place. Therapists can help people learn practical skills to manage existing issues and navigate future challenges.
Life is full of ups and downs, and everyone feels sad, insecure, stressed, and even hopeless during challenging times.
If you are feeling depressed or unable to cope with circumstances, individual therapy can help. Our experienced and skilled counselors can provide you with the best tools and techniques to get through day-to-day life's stressors.
Who Needs Private Counseling?
We All Need help No Matter What Stage In Life We Are In
Start a journey of self-discovery and personal growth
How Can Individual Therapy Help?
An individual professional therapist can help people facing a variety of issues. Some of these include:
Anxiety disorders
Anger management
Addiction and substance abuse
Depression
Eating disorders
Obsessive-compulsive disorder (OCD)
Post-traumatic stress disorder (PTSD)
Panic disorders
Specific phobias
Work-related issues
If you are also suffering, we can help.
"I love the face-to-face contact I have with my therapist. She knows me -- I'm not just a 'patient.' She values my uniqueness and me as a whole person."
"Her empathetic directness is invaluable as I can walk away from each session with something to consider and work on. I do not feel like I am being my own therapist and talking to empty space."
"As someone who has never wanted to go to a therapist before in his life, all I can say is I enjoy and look forward to my sessions....She's been a tremendous help to me and how I view mental health."
"My husband and I have been in counseling with Terri for about two years. She is an attentive listener, good coach, and she respectfully challenges us and offers viable solutions to our conflicts and issues using the Gottman Method."
"Me and husband attended the much needed couple therapy sessions. I just want to say that these sessions saved our family. Please get help if you feel something is not right."
"Debunking 4 Myths on Love"
Join the Hundreds of Thousands Worldwide Who Discovered the Secrets of the 'Love Lab'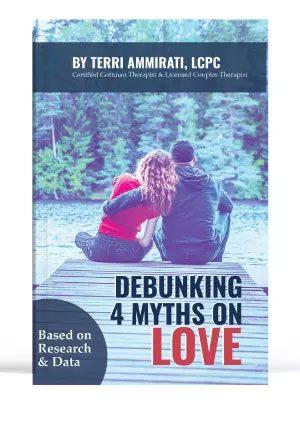 In the 1980s, Dr. John Gottman established the "Love Lab," where researchers discovered groundbreaking behaviors on the "Masters" and "Disasters" of relationships.
Terri Ammirati was fortunate to be trained directly by Dr. Gottman and his wife, Dr. Julie Gottman.
Subscribe now to receive Terri's free e-book with "Love Lab" findings.
Empower your relationships today
Your e-book is on its way! If it doesn't show up in your inbox, remember to check your spam folder.