MODERATED The Art And Science Of Love | Online | Oct-Nov 2024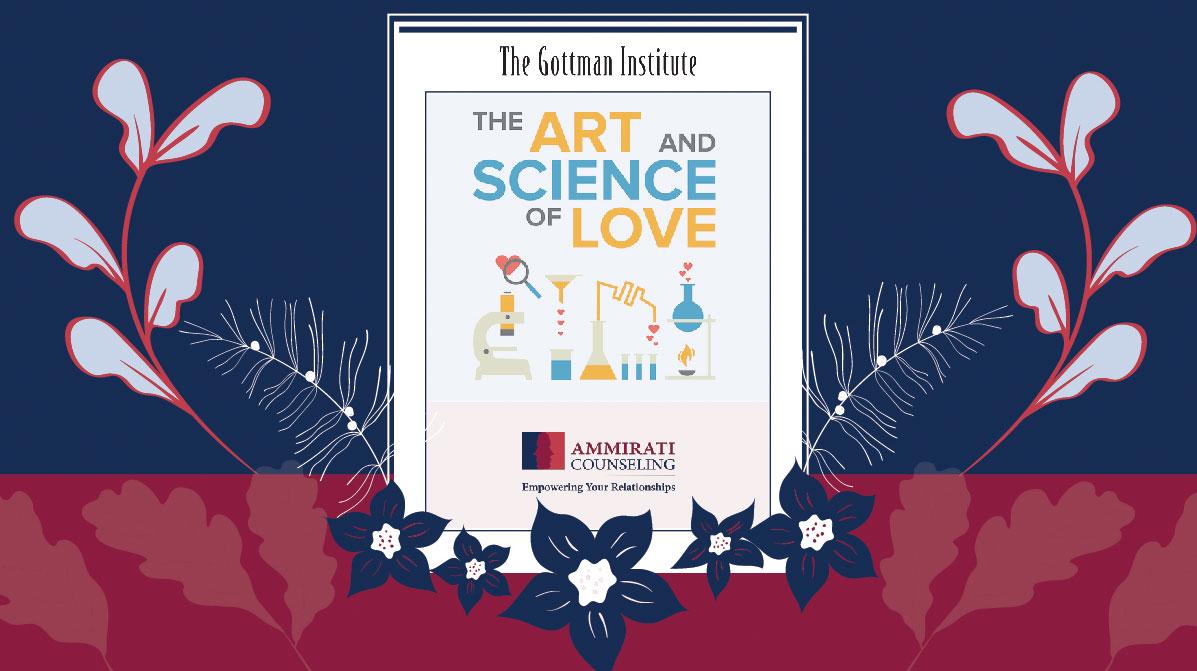 Early Registration Deadline:
September 17, 2024  | 12 midnight CST

Use PROMO CODE: OctNov24 for $50 off.
Standard Registration: $660
October 15, 2024 | 12 midnight CST

MODERATED: The Art and Science of Love
What do successful couples do to foster romance and harmony in their relationships? Find out at this unique couples workshop created by The Gottman Institute.

All materials and concepts are based on The Gottman Institute's 40+ years of research — the most extensive studies ever done on relationships.
We developed a new online workshop format during the COVID-19 crisis. Now you receive:
5 Weekly Zoom meetings with Certified Gottman Therapist, Terri Ammirati, LCPC. This meetings include an interactive lecture, Q&A and practice time of workshop excerises.
Weekly virtual one-on-one Help Time with Terri.
Lifetime access to video lessons featuring Drs. John & Julie Gottman, founders of The Gottman Institute.
Gottman Workshop PDF Manual. Tools and worksheets that outline actionable step-by-step Gottman Method instruction, and the supporting research.
Gottman Love Maps, and Salsa and Open-Ended Card Decks App.
The Gottman Workshop PDF manual is a great reference tool. You can refer back to them again and again as you integrate the Gottman Method's tools and techniques in your daily lives. Print them, and highlight and take notes!
FORMAT Online Learning + Webinar + Personal HELP TIME
PRESENTED BY:
Terri Ammirati, LCPC
CREATED BY:
The Gottman Institute
LOCATION:
Online | The convenience and privacy of your home
SCHEDULE:
Couples will meet virtually with Terri for 2 hours each Thursday.
Note: Seating is extremely limited. Register today.
Who Should Attend This Couples Workshop?
If you have a strong relationship, this workshop will provide information and tools to make it a great one. If your relationship is moderately distressed, then this workshop will provide a road map for repair.

It is also a wonderful workshop for therapists to attend with their partners. 12 CEUs are available to purchase upon request​.

Mental Health Professionals can receive CEU's.
• Couples Celebrating Anniversaries or Facing Changes

• Couples with Stressful Careers

• Engaged Couples

• Military Personal

• Newlyweds

• Parents of Blended Families

• Retirees & Empty Nesters


Note: This workshop is psycho-educational to practice skills and is NOT a form of therapy. If you are in high conflict or are seriously considering divorce, then private couple therapy is advised.
How Does This Workshop Help You?
Gottman Couples Workshop Reviews
Terri Ammirati is the owner and director of Ammirati Counseling, bringing 25+ years of experience to the field. Terri is a Certified Gottman Therapist specializing in Couples Therapy, an evidence-based approach that helps couples with all aspects of relational issues. She works with couples to enhance the quality of their relationship.

Her expert counseling helps couples explore ways to better manage conflicts. Couples learn tools to effectively improve communication with each other and find a path to heal from past hurts.

If you feel your relationship can't be helped and have doubt there is hope for it, you can learn to love again. You will gain a renewed sense of confidence and ability to build a deeper level of intimacy and connection you thought was not possible.
Early Registration | Save $50
Enter promo code at checkout. Offer expires Sept 17, at 12 midnight CST
Registration Confirmation
This workshop is psycho-educational to practice skills and is not a form of therapy. If you are in high conflict or are seriously considering divorce, then private couple therapy is advised. This event can be used to supplement private therapy.

After you register, we will call you to confirm and finalize your registration. We want to make sure this couples workshop is right for you.
Register Now: