Start Your Healing Journey
Regain your emotional, physical and spiritual strength
Grief is a normal, natural response to loss. It can be caused by the death of a loved one, or by any other traumatic event. It is a powerful emotion that can leave you feeling exhausted and overwhelmed. Grief is different for everyone, but fortunately it is treatable. The pain of grief can also disrupt your physical health, making it difficult to sleep, eat, or even think straight.
Why Is Grief & Loss Therapy Important?
A Therapist Trained in Grief & Loss Therapy Can Help
Loss is an inevitable part of life. At Ammirati, we provide you with meaningful support to manage the grief associated with issues such as:
Divorce & separation
Death of a pet
Job change
Loss of a loved one
Loss of physical ability
Loss of financial security
Learn to move forward in these difficult times of life.
We provide compassionate grief and loss counseling in a warm and nurturing environment to our clients so that they can effectively recover from intense pain and an emotional breakdown. Our experienced and skilled therapists offer a unique, empathetic approach to healthily processing your emotions and getting your life back to normal.
You are not alone. We are here to help you through the pain.
Common Signs & Symptoms Of Complicated Grief
Consistent pining for the loss
Extreme irritability
Lack of interest in others
Trying to deny the loss
Trouble sleeping
Sadness and depression
Frequent mood swings
Suicidal thoughts or feelings
Unexplained fatigue
Benefits Of Counseling With A Grief & Loss Therapist
A therapist trained in grief and loss counseling can help you:
Deal with the impact of loss
Manage anger
Find acceptance
Practice self-care
Honor the loss without trauma
Identify coping mechanism
Process your loss
Reduce anxiety, guilt and depression
Set future goals
What Is Grief & Loss Therapy?
Grief and loss therapy is a type of talk therapy that addresses the pain over the loss of a loved one, finance, home and job. Counselors can help ease some of the intense emotions like trauma, anxiety, depression, sadness or hopelessness that come with grieving.
Loss, even when it's expected, is a challenging and painful situation. The immense emotion can lead to depression, anxiety, phobias, flashbacks, mood swings and other mental health issues. These issues will impact your relationships at home and work.
If you are struggling with loss, counseling can help. In our grief and loss therapy sessions, you'll learn the best tools and techniques to process your feelings and enjoy life again.
Learn More About Grief & Loss Therapy
"Debunking 4 Myths on Love"
Join the Hundreds of Thousands Worldwide Who Discovered the Secrets of the 'Love Lab'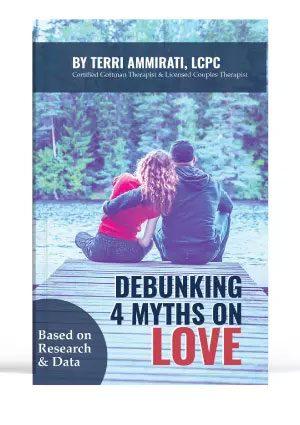 In the 1980s, Dr. John Gottman established the "Love Lab," where researchers discovered groundbreaking behaviors on the "Masters" and "Disasters" of relationships.
Terri Ammirati was fortunate to be trained directly by Dr. Gottman and his wife, Dr. Julie Gottman.
Subscribe now to receive Terri's free e-book with "Love Lab" findings.
Empower your relationships today
Your e-book is on its way! If it doesn't show up in your inbox, remember to check your spam folder.